"I want to tell you how much I think of the Ultimate Game Planning System that you recently released. I picked it up yesterday and can already tell how much it is going to help me streamline the game planning process and save me all of the time it takes to script everything for the course of the week."
- Kevin Schelb
The Ultimate Game Planning System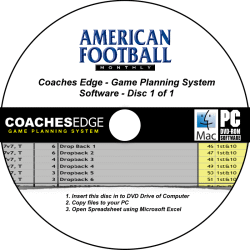 With the Coaches Edge Game Planning System, create a more efficient and effective practice script. Getting the plays in the game plan and having the necessary reps for them to be effective on game day is no longer a painstaking task. Simply enter the game plan at the beginning of the week, and the script is created for every single group and team period during the week. The hours spent creating a script and making sure every play gets the necessary practice it needs is now automated.
Up-Tempo and Standard Tempo templates are included!
Easily Adjusts to match your offense!
Call sheet, Practice Scripts & QB wristband are generated instantly as you game plan.
Plan for all situations you will face.
Reduce the stress on the play caller.
Give players confidence that they are prepared for all circumstances.
Improve work flow and free up time to watch opponent film and teach players.
Watch the GPS Overview Video
Coaches Edge Game Planning System uses a simple process for making decisions early in the week that allow you to get the practice repetitions that will ensure the proper execution on game day.

Even though you may have an expansive, flexible offense over the course of the season, thinking you have that wide menu of plays can lead to confusion for both the play caller and the players. The fact is that there are only a limited amount of practice repetitions available, and you will only call about 60 plays (more if you are an uptempo team) in the game.
Being able to exercise discipline on your process by limiting the amount of plays that will appear on your call sheet on game day is the at the core of the Coaches Edge Game Planning System.

This is done on what is called the Game Plan Board.
The Game Plan Board gives a set number of plays which you can carry and feel confident in practicing over the course of the week. In general, the game plan board and scripts are set up to give you 50-50 balance between run and pass. If you desire to practice more running plays or more passing plays, see the "Adjusting" instructions included in each section. This allows you to create the balance you desire.