* What is the 'Coaches Edge Game Planning System'?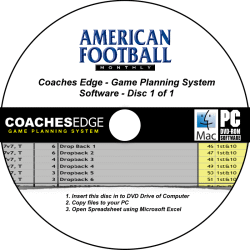 The Coaches Edge Game Planning system is a method of game planning that allows coaches to make decisions early in the game week about what they will include in the game plan. It allows a coaching staff to plan for all situations they may face. However, the tedious process of putting together practice scripts, call sheets, wristbands is eliminated. Once the decisions are made and the game plan is entered, the planning for the week is complete.
*How does the 'Coaches Edge Game Planning System' work?
A coach will enter play information into the game plan board. He only has to enter the data one time. A standard template or an uptempo template may be used. The system also allows the coach to enter the defenses he expects to see. The information is then used to autofill the practice scripts for the week. The script gives the coaches all the information they need - down and distance, hash, situation, offensive play and defensive call.
* How does the 'Coaches Edge Game Planning System' save time?
The daily planning of a script is eliminated. Each space on the game plan board gives the coach information about which segment of practice will be used to practice the play as well as how many reps the play will be practiced over the course of the week.
*How is the 'Coaches Edge Game Planning System' different than competitive products?
There really is not a product like this. Coaches have been game planning like this for a long time, but this system eliminates the work needed to be done in the office. That time is now freed up for other things.
* How many years has the 'Coaches Edge Game Planning System' been in testing and development?
The system has been used in some form since 2005. It has been used at both the high school and college levels for both offense and defense. The system works for huddle and no huddle teams and for any type of offensive system.