Take Your Quarterback From Good to Great.
by: Josh GehringQuarterbacks Coach, University of Wisconsin-Whitewater
©
June 2011
5 steps to help your quarterback become a more efficient and effective leader.
One of the most challenging things to accomplish as an offensive coordinator is determining what to invest in and what to eliminate. While there are plenty of offensive systems and plays that are effective, most of us realize that we simply cannot do everything. We still desire, however, to be highly productive and unpredictable while striving to make our offense better than the year before. So how do we accomplish this? How do we continue to evolve without adding or subtracting too much while still taking the necessary steps toward making our offense go from good to GREAT?

The answer is in Offensive Efficiency.


Defining Efficiency

Efficiency is the measurable ability to produce results. Webster defines it as, "competency in performance." I want to clarify that it is not Quarterback Efficiency or Quarterback Rating; these are statistics that are included in most collegiate and professional post-game stats. Instead, it is a formula for which you can evaluate yourself from down to down and in turn make the necessary adjustments to improve your production. We define our efficiency scale as gaining four yards or more on first down, gaining a minimum of half-the-distance on second down and picking up a first down on third and fourth down (See Chart A). You can adjust the criteria as you deem necessary, but we have found that these standards are appropriate for our minimum expectations per down.
When the goal is to become more efficient offensively, there are two important factors to consider; 1) maintaining a passing game completion percentage of 65% or greater, and 2) developing a run game that picks up the necessary yardage on critical downs. This isn't a revelation by any means, but when you begin to think literally in these terms it begins to change your perspective on your playbook, the amount of calls you carry from game to game, and the strengths and weaknesses of your personnel – especially at the quarterback position.

Let's look at the 2010 NCAA FBS teams, for example. Only 19 starting quarterbacks out of all 110 teams completed the ball at a rate of 65% or more. That's only 17% of all FBS quarterbacks. Of those 19 quarterbacks, their teams averaged a 10-3 overall record for a winning percentage of .769. Of the top five scoring offenses in the country, four of them had quarterbacks that completed the ball above 65%. I believe there is a direct correlation between completion percentage and the success and production of your offense.

When it comes to the run game, you don't have to run the football all the time to have success. However, I do believe you must be able to run when you have to run. The offensive system is irrelevant, the important thing is to measure your play calls in small attainable goals, such as 'how efficient are we by down and distance'.

The Efficiency Impact

In the spring of 2007, at Morningside College, we were trying to improve an offense that averaged just 24 ppg the year prior. One of the biggest challenges was deciding what areas we should continue to invest in and others that we should eliminate. Although improvement in our production was absolutely necessary we knew that the system wasn't broken. We continued to scrutinize and improve our personnel, individual match-ups, and our schematic philosophies. One of many discussions and evaluations throughout that spring was how we could better strategize our game planning and play calling. An area that we began to study and watch closely was our efficiency. As mentioned above we came up with a criteria that was both measurable and realistic (See Chart B). We used this scale to determine our success from play to play and down to down. The findings changed our view forever on how to call a game.


As illustrated in Chart B, you can see that in 2007 we gained only four or more yards 39% of the time while when we passed the ball just 46% of the time. In other words, when it came to first down we were efficient (gaining four or more yards) only four of every ten times. As you can imagine, this can dramatically impact your calls from second to third down, making you less effective and less productive because of the distance needed to pick up a first down and continue the drive. From that statistic alone we began to evaluate what we were calling determining whether or not we were calling plays that truly fit the strengths of our personnel as well as what we were best at, focusing more on ourselves rather then what our opponent was trying to do against us.

The most important finding, however, was the impact efficiency had on third down. You can see that, in 2008, we became more effective improving in each run and pass category. We improved from 48% to 52% on third down, a significant step in the right direction. What we were not prepared to see was the significant reduction in third down calls. In 2007, we ran a total of 388 first down plays and a year later 379, a difference of just nine plays. Because we became more efficient and effective on first down we had 50 fewer third down calls or nearly five per game. The essence of becoming more efficient offensively is decreasing the amount of third downs while increasing the amount of production instead.

Becoming more efficient has a variety of benefits including keeping your offense on the field, chewing up time of possession, and more importantly scoring more points. Before taking over as offensive coordinator in 2007, the Morningside College offense averaged just 24 ppg. As we began to buy into this evaluative process our offensive production continued to flourish. We improved to 37 ppg in 2007 and eventually led the nation in scoring just a year later at 48 ppg (Chart C).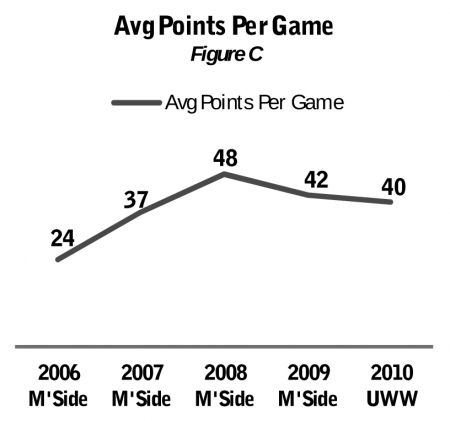 Upon arrival at UW-Whitewater, we have been able to replicate this evaluative process from week to week with consistent production.

5 Steps to Becoming More Efficient

1. Determine the Strengths of Your Quarterback

The most important thing to consider when trying to improve your offensive production is the strengths of your quarterback. Knowing what he feels most comfortable with and determining his best skill sets within the offense will help you identify the calls you should make that compliment his strengths. Simply put, don't call things that he is not good at.

2. Determine What You're Best At

Whether win or lose the first things I look at after a game are completion percentage, turnovers, and our efficiency breakdown. I could care less how many yards we threw for or how many rushing TDs we had. I want to know if we put our quarterback and more specifically our offense in a position for success. I want to know if the calls we made during the course of the game are consistent with what we had prepared for and more importantly if they played into the strengths of our personnel.

3. Condense Your Game Plan

Less is more. Year after year I am amazed at how few plays we run from our entire playbook. Within the game week I am constantly evaluating the comfort our players feel with the game plan, any adjustments we made to existing plays, and new wrinkles we've put in for the week. If we do not execute them at a high level, we immediately scrap them and focus instead on what generates high-efficiency. You cannot be prideful with what you want to run as a coach; it's always about the players on the field and whether or not they can execute their responsibilities.

4. Script Between Series

One method to keep you on task when calling a game is to script between series. I have found that if you draft a four to five play script while your defense is on the field it can crystallize your approach and what is needed on the next offensive series. This can keep your emotions in check and make sure that you are hitting the best calls from your game plan. It can also allow you to keep your quarterback in rhythm and gives you the opportunity to communicate to the offensive unit before they take the field giving them a positive image of what calls to expect.

5. Create a Halftime Checklist

Lastly, compose a halftime checklist. This will help give you a better picture of what you accomplished the first half, what adjustments you need to make, what calls you made, what calls you still have on the shelf, what was effective, and what was ineffective. One of the things that we track each quarter is our first down calls. This helps us identify our run/pass ratio and if we are calling a game that is helping us maintain efficiency on first down which in turn further impacts our effectiveness on all other downs.

The goal for every football program is to continue to close the performance gap by taking another step toward becoming the absolute best you are capable of becoming. Going from good to great in college football is as small of a gap as there is, but is often the most challenging to achieve. The difference is not re-inventing yourself. It is becoming better and more efficient at what you already do.