The Spread Wing-T Passing Game – Using the Spread Wing-T gives your playmakers opportunities to make big plays.
by: Rich HargittQuarterbacks Coach and Passing Game Coordinator Nation Ford High School, Ft. Mill (SC)
©
December 2011
The Wing-T has been a great offense for me over the past 13 years. It serves as a very deceptive run attack and it allows the offense to move the chains. The trend in football is toward more receivers and more passing as athletes get stronger, better and bigger. Therefore, several years ago I began mixing the Spread Offense and the Wing-T. The Spread Wing-T operates out of a shotgun set with multiple receivers. This offense allows us to get the ball to our best athletes in a variety of ways.

We really like the quick passing game because it gets the ball out of the QB's hands and allows our playmakers to make plays. The first play we like is the Stick Route. We run this out of a TE/Wing alignment to create a run look and then motion into trips. This puts a great deal of pressure on the outside flat defender to try and play both the flat runner as well as the stick. We give the Stick Route runner the option of sitting down or breaking away from coverage. This is a consistent six-yard gain play and a great way to improve your quarterback's confidence in starting a game (See Diagram 1).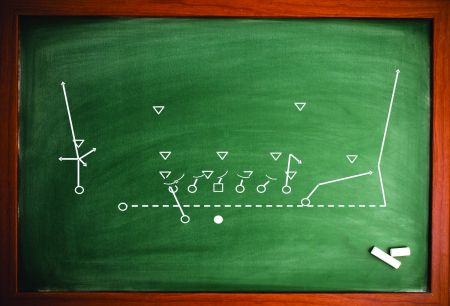 Diagram 1: Lucy 2 Across Stick (TE)
This play can be run from a 3 x 1 set. It is a great way to attack both zone and man coverage. We are reading the outside linebacker vs. Cover 3 and putting him in a bind with a route both inside and outside of him. The third receiver or stick route has the option of either sitting down at six yards or running away vs. man to the outside.

Our second great quick pass is our X pass. This route is the same general concept except now the #2 receiver runs a 45-degree inside angle hitch and #3 runs the flat. We get a very nice "rub" with the two crossing receivers. These routes can be taught in the first 15 minutes of practice and gives your QB another safe pass that he can throw with confidence. As everyone gets more comfortable they can be dressed up with multiple formations and motion assignments (See Diagram 2).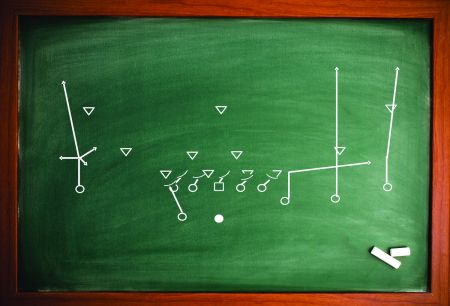 Diagram 2: Trips Right Bunch 92 X (SE)
This play can be run out of either a 2 x 2 or 3 x 1 set. If it is a 2 x 2 set, then there is an under route and a slant. This is a great way to attack Cover 3 or to create a favorable match-up vs. man coverage. In this play, we are reading the outside linebacker vs. Cover 3 and, again, putting him in a bind with routes both behind and in front of him.

We have also developed a good play-action series to go with our Spread Wing-T run and quick game. Our Waggle Pass comes off of our 20 Series Buck Sweep. This is the same general concept that an under center Wing-T team would use to run Waggle but we have added motion and a mesh with the shotgun quarterback to make this more deceptive (See Diagram 3).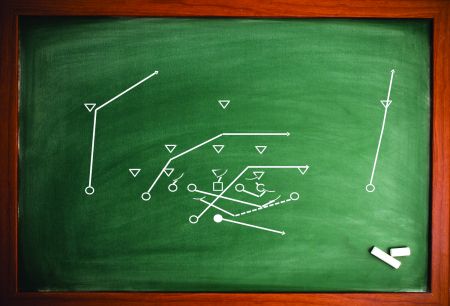 Diagram 3: Wide 4 Flash 18 Waggle (SE)
This is the base play-action pass off our 20 Series. We utilize motion to sell the buck sweep and then bootleg away from the run and create a flood pass play. The drag route crossing from the other side of the field makes it a great man coverage beater or zone beater, depending on whether or not the receiver sits down or continues across the field.

We also bring wings in motion to create the look of a wing back power play and then throw our Power Pass or Smash play (See Diagram 4). These two play-action passes simulate our 20 Series (Buck Sweep) and 30 Series (Power) and so they give our offense big play-action pass potential while staying true to the Wing-T principles that make us a great rushing team.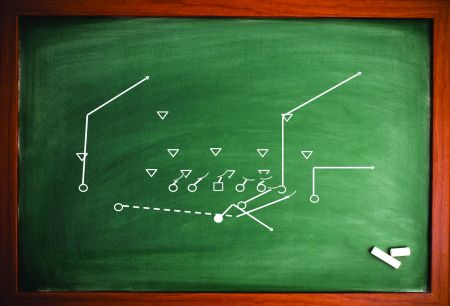 Diagram 4: Lucy 2 Flash 18 Power Pass (TE)

The Lucy 2 Flash 18 Power Pass is our base play-action pass off of our 30 Series. Motion is utilized to create an extra blocker for protection. Then, a smash concept is executed to the call side. The corner route combined with a five-yard speed out makes this play a great man coverage beater or zone beater.

Coach Hargitt recently completed a series of six DVDs on the Spread Wing-T along with a Spread Wing-T manual detailing his offense.

Both the DVDs and the manual are now available at AFMvideos.com.
Coach Rich Hargitt is in his first year as both quarterbacks coach and passing game coordinator at Nation Ford High School in Ft. Mill, SC. A veteran of 14 years as a coach, Hargitt has served as both a head coach and offensive coordinator at high schools in Illinois, Indiana, North Carolina, and South Carolina. In 2010, he earned a Master of Arts Degree in Physical Education with Coaching Specialization from Ball State.
More Articles on this subject:
January, 2009 • The Shotgun Wing-T Bucksweep Series
April, 2007 • The Shotgun Spread Wing-T Package